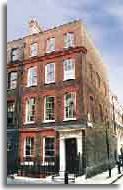 68 Dean Street
London, W1D 4QJ

Tel | Fax 020-7437-5512 (but ring first for faxes)
E-mail.

[email protected]


For further information please contact David Bieda.

Location Information
Click on floors left for plans, with photos, room sizes, floor heights, services, colours etc.
The house is only available for location use for very limited periods each year, and is suitable for delegates centre; sale centre, stills shoots, press launches, movie shoots. Proceeds from same help to complete the restoration and furnishing of this unusual early Georgian town house which is open to the public by appointment.
SOME QUOTES FROM LOCATION USERS:
'... the event was extremely successful and we had over 195 guests approx. (170 press), most of whom commented on the 'amazing' venue'. Selfridges Head of PR.
'...thank you for the use of your beautiful house for our Early Learning Centre Christmas press event...(it) was an excellent venue for us to display the huge range of toys and show journalists around, and was much admired by all who attended.' Lexis PR
'...it is such a great location and so popular with everybody.' House of Fraser Head of PR. (nb last event 231 press).

LOCATION
68 Dean Street is situated just north of Shaftesbury Avenue equidistant from Tottenham Court Road and Piccadilly Circus.
TELECOMMS & POWER - SEE PLANS
The house can also be lit entirely by candle and we can supply fittings for same. Telecom hub in each room (overall maximum is 20 lines).
LIGHT CONDITIONS
The house faces East - West. Thus the front rooms are sunlit in the morning (and by reflection in the afternoons), the middle rooms and staircase in the afternoon, and the closet rooms and ground middle in the later afternoon.
FACILITIES & CATERING
The ground floor has a fully equipped kitchen, and an additional larder fridge/freezer are available. Events can be catered via Mezzo (0171-344-1915) or the Blues B/R (0171-494-1966) who are both adjacent. There are two lavatories on the second floor. Smoking is allowed in the garden.
PARKING
Please contact us for details